Poll
Loading ...
Skinny Jeans That Charge Your Phone
posted by Liz E. on August 15th, 2015 - 12:45 pm | Whimsy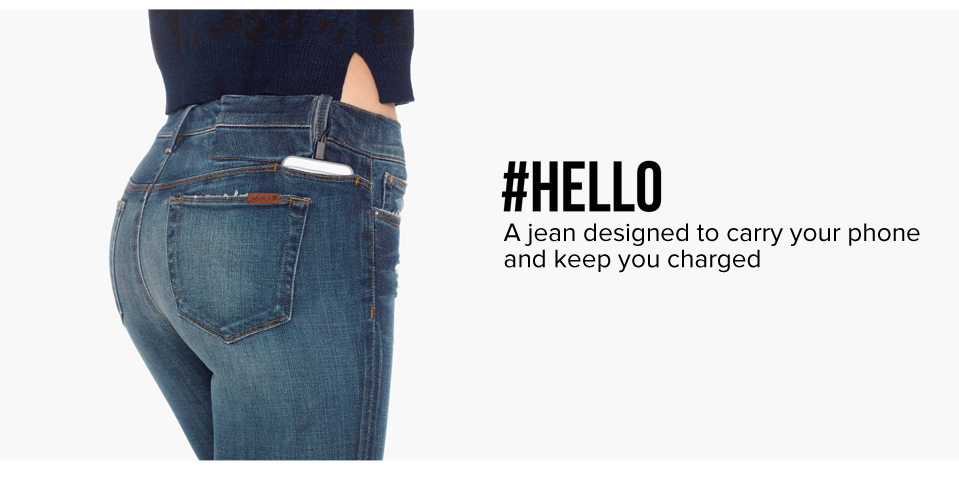 Have you ever looked at your jeans and wondered why they can't do something more useful than simply cover your lower half? I mean, why can't they order pizza, give you directions or charge your phone? Yeah, I've never wondered that either, but regardless it looks like the company Joe's Jeans has stepped forward to solve at least one of those three very pressing questions.
Available only for women, the new Hello jeans feature a removable ultra-slim smartphone battery pack sewn at the waist and a special "sleek side pocket" designed specifically for your smartphone. The side pocket is located, as you can see in the heavily edited above image, sort of between your front and back pockets in a little special (and definitely not conspicuous) pocket.
Now, I have to admit that I'm likely a little biased against this $200 pair of jeans. I have never liked skinny jeans, and I'm sure we all remember the bendgate fiasco which, supposedly, originated via skinny jeans. But, even the most avid fan of skinny jeans has to admit that most phones get a little hot when they charge, which has to make it at least mildly uncomfortable. Not to mention having a little battery pack and cord dangling looks not only dorky but also a little weird.
However, in the interest of fair journalism tactics, I'll let Joe's Jeans defend their product with this promo video and it's continuation. Both videos have, unfortunately, disabled embedding.
If you're interested, you can totally nab yourself a pair of these snazzy phone-recharging jeans in one of four colors on the Joe's Jeans website. Unfortunately, guys, it's only available for the ladies right now and there doesn't seem to be any indication when guys will get their own version.
So until then, guys, you'll have to settle for spending $10 – $20 on a portable charger instead. Bummer.