Poll
Loading ...
Virgin Mobile to get BlackBerry Curve 8530
posted by Joe on April 27th, 2010 - 7:30 am | Virgin Mobile
Just last week I wrote a post on our sister site, BBGeeks, profiling the needs of a prepaid BlackBerry user. At this point it's tough to gauge exactly who benefits from the service plans and handset prices, but there are certainly advantages to taking a BlackBerry off contract. We know that Cricket will offer the BlackBerry Curve 8530 at some point this summer. According to a recent report from PhoneNews.com, we could be adding another carrier to the list. They caught a tidbit on RIM's download page, which indicates that the Curve could hit Virgin Mobile sometime soon.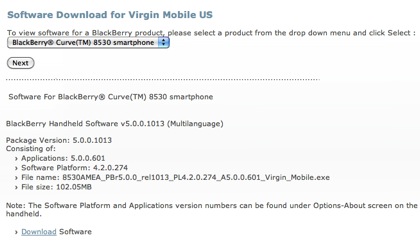 As you can see above, RIM has an OS 5.0 version ready for Virgin Mobile. That presents a pretty good sign that they're readying a release, though we have no information on when that might be. We also don't know the price point of the device, though considering Virgin's exclusive focus on prepaid, that could be around $300 or so.
We haven't heard much from Virgin since the merger with Sprint. This would be a good way to get back into the public conscious.