Poll
Loading ...
Virgin Mobile Hotspot Reduced by 20%
posted by Liz E. on November 21st, 2014 - 12:12 pm | Virgin Mobile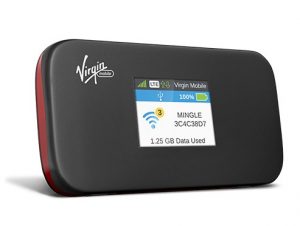 Virgin Mobile has reduced the price on their Netgear Mingle Mobile Hotspot device by 20% for a limited time. Normally priced for $99.99, right now it is on sale for $79.99 with free shipping. The device offers internet hotspots at up to 4G speeds and is able to password protect your signal so you can only share it with who you want, and protect your privacy.
The device has an easy-to-read and easy to understand color LCD screen displaying the battery life, signal strength, number of devices connected, how much data has been used, the ID of the device and other useful information–so no more having to memorize what color means what.
There are several no-contract mobile broadband plans available for the mobile hotspot including:
$5 for 250 MB; expires in 1 day
$25 for 1.5 GB; expires in 31 days
$55 for 6 GB; expires in 31 days
All plans are no contract and can be topped up whenever necessary. However, keep in mind that unlike with minutes, data does not roll over month to month, so if you purchase 6 GB and don't use it before the 31 days expire, you're simply out the money.