Poll
Loading ...
Virgin Mobile announces LG Optimus Slider and HTC Wildfire S
posted by Joe on October 3rd, 2011 - 9:43 am | Virgin Mobile
We've seen the above picture recently — last week, in fact. It's the LG Optimus Slider, and it is now officially coming to Virgin Mobile. Last week we detailed the Optimus Slider, noting its reasonably fast processor, 3.2-inch screen, sliding keyboard, and Android 2.3. As expected, it will cost $199.99. Virgin will release the handset on four different dates: October 17th on Virgin Mobile's website, October 31st at Best Buy and Radio Shack, November 6th at Target, and November 13th through Sprint retail outlets.

Virgin also made two more announcements, including an update on data throttling and another Android handset.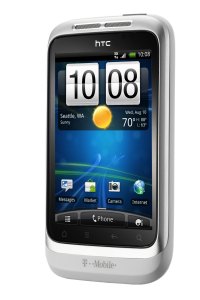 The above-pictured handset is the HTC Wildfire S, another Android 2.3 device that Virgin announced. It's a little lower end than the Optimus Slider, mainly in terms of its slower processor. It does, however, have the same 3.2-inch screen — though the 320 x 480 resolution leaves a little to be desired. Unfortunately, it will check in at the same price as the Optimus Slider: $199.99. You can grab it on October 23rd.
Remember when Virgin announced that it would start throttling data speeds in October? Turns out that it won't happen, at least not now. Virgin has tabled its plans, which include dropping data speeds to 256Kbps after 2.5GB of consumption at 3G speeds, until some time in 2012. That's good news for those who plan to pick up either the Optimus Slider or the Wildfire. Enjoy unlimited while it lasts.
Via Phone Scoop and FierceWireless.