Poll
Loading ...
Sprint Prepaid, Virgin Add New LG Phones
posted by Liz E. on July 21st, 2015 - 4:22 pm | Sprint, Virgin Mobile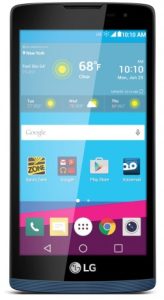 Sprint's prepaid division and its prepaid MVNO Virgin Mobile both announced that they will be adding a new LG phone to the prepaid lineup. Sprint prepaid customers will be able to purchase the LG Tribute Duo while Virgin Mobile will be offering the LG Tribute 2. Boost Mobile added the Tribute 2 to its lineup last month.
Both devices should cost around $100 plus tax and will be running the most recent Android OS, Lollipop 5.1 with a smaller display. I'd place both device in the entry-level market, basically piggy-backing off of LG's flagship with design including buttons on the back of the device.
While I couldn't find the specs for the LG Tribute Duo, they are probably very similar to the Tribute 2. Here's what we know about that device:
LG Tribute 2
Android 5.1
Enhanced Tri-band LTE support
1.2 GHz quad-core processor
1 GB RAM
8 GB memory
5 MP rear camera, VGA front camera
Knock code
Sprint prepaid offers unlimited plans starting at $35 while Virgin Mobile's plans start at around $30 with data. Both companies, obviously, run on Sprint's network. For more information on Sprint Prepaid, visit the launch page. Or, to learn more about Virgin Mobile, visit the Virgin Mobile website.