Poll
Loading ...
Boost, Virgin Mobile to get Lumia 635
posted by Liz E. on December 17th, 2014 - 8:35 am | Boost Mobile, Sprint, Virgin Mobile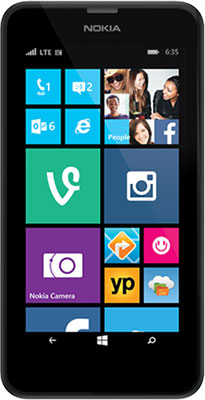 Sprint and Microsoft seem to have worked out their differences. Yesterday, Sprint announced that Boost Mobile and Virgin Mobile will carry the Windows Lumia 635 starting December 23. This will be the first Windows Phone 8.1 available to Sprint customers and the first Lumia device available for Sprint prepaid brands Boost and Virgin Mobile. The phone will become available to postpaid plans on January 16.
The Lumia 635 will be available in cyan at Boost Mobile and in white via Virgin Mobile. Both companies will sell the phone for $100 before taxes. The phone will be available nationwide online and at select Boost Mobile stores. Pricing for Sprint prepaid/postpaid was not listed.
As far as phones go, the Lumia 635 is one of Microsoft's more popular devices and features 8.1 with the sassy digital assistant, Cortana. The phone has a Snapdragon quad-core processor, LTE compatibility, a 5 MP camera and some pretty sweet features like the Action Center. You can check out the full specs here.
Both Boost Mobile and Virgin Mobile offer a variety of prepaid plans for all budgets. You can check out our indepth review of Boost Mobile for more information or read our Virgin Mobile review.