Poll
Loading ...
Verizon releases its own low-end prepaid phone
posted by Joe on November 30th, 2009 - 9:07 am | Verizon Wireless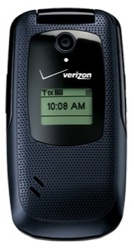 We often see small, regional prepaid carriers introduce low-end phones. That's because they don't subsidize them. Lower end phones are a necessity for a market like that, because unsubsidized phones are so expensive. This time, though, it's not a regional carrier. It's Verizon Wireless. According to Howard Forum user The_Sweeper, the are now selling the CDM7076 on prepaid. It's as basic as it gets, with no mid-range features except a VGA camera. It can browse the mobile Web, though, which is a plus. You can get the CDM7076 on the Verizon website for $39.99. That comes with $10 of airtime, though.