Poll
Loading ...
TracFone Offering TMNT Back to School Promo
posted by Liz E. on July 14th, 2015 - 4:35 pm | Tracfone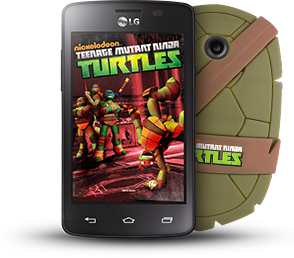 Summer is drawing to a close and it won't be too long before all of the kids are back in school again and schedules become even more crazy than before. For parents looking for a great way to stay in contact with kids during the busy school year, prepaid phones are a fantastic option and now there is one that I am sure some kids will go totally bonkers for. TracFone recently debuted a new Back to School limited edition Teenage Mutant Ninja Turtles smartphone aimed at the TMNT lover in your life.
The limited-edition bundle costs $29.99 and includes:
LG Sunrise smartphone
Limited Edition Teenage Mutant Ninja Turtles phone case
1 year free subscription to NQ Family Guardian ($35 value)
Exclusive code to download a TMNT app and episode
Link to access an exclusive free game and wallpaper upon activation
The NQ Guardian app is a subscription-based parental control app that is avialable to all smartphones. Generally costing around $5 a month or $35/year, the app allows parents to monitor their child's smartphone usage, filter contacts, schedule no-go times when smartphones are off-limits, and have children check-in with GPS to see where they've been. Learn more about it here.
The $30 price does not include a plan, unfortunately. Because the device is through TracFone and is limited edition, it may not be available in all areas. TracFone has a bad habit of making phones available only in specific markets. You can find a TracFone store near you or check the website to see if it is available in your area. There is no specific end date for this promotion and is listed as "while supplies last" so if you want to get your hands on this pretty cool kid-friendly device, I'd recommend acting fast.
The LG Sunrise is an older entry-level phone that is running Android Kitkat 4.4, features 4 GB of memory, a 3 MP camera, a MicroSD card slot for expanded memory, a MP3 player to store music and a small 3.8 inch display. The phone would be a great choice for a kid, as replacing the device itself is not very expensive at all, should the worst happen. You can check out the specs here.
TracFone offers a number of prepaid plan options including pay-as-you-go and monthly unlimited plans which start at $10. For more information on TracFone plans and services, visit the TracFone website.