Poll
Loading ...
Tracfone offering double minutes discount
posted by Joe on May 22nd, 2009 - 10:00 am | Tracfone
Memorial Day weekend is upon us, and what better way to celebrate than with a deal from Tracfone? They've discounted their Double Minutes for Life cards, so you can benefit on every card you purchase in the future…for the life of your phone. After the jump, we've got the details of the deal.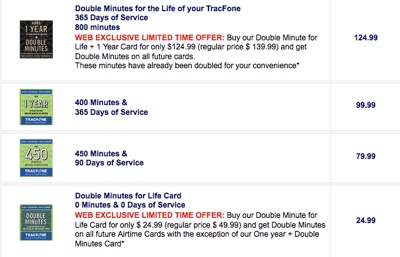 That's a Double Minutes card for $24.99, half off the normal $50 price. If you want to purchase the Double Minutes plus 365 days of service plus 800 minutes (already doubled), you'll pay just $124.99, down from $139.99. These are billed as Web exclusive limited time offers, so make sure to take advantage before it expires.