Poll
Loading ...
Have you seen a Tracfone trafficking ad?
posted by Joe on December 4th, 2008 - 11:00 am | Tracfone
One of the bigger news items earlier this year in prepaid wireless was Tracfone's pursuit of phone traffickers. The concept is simple. People go into retail stores and buy large quantities of prepaid phones, which are subsidized by the carrier so they come at below cost. They then unlock them and sell them overseas at a profit. This hurts everyone, says Tracfone. The company is taking this pursuit a step further, as they are running ads warning traffickers that they'll be hunted down and killed prosecuted.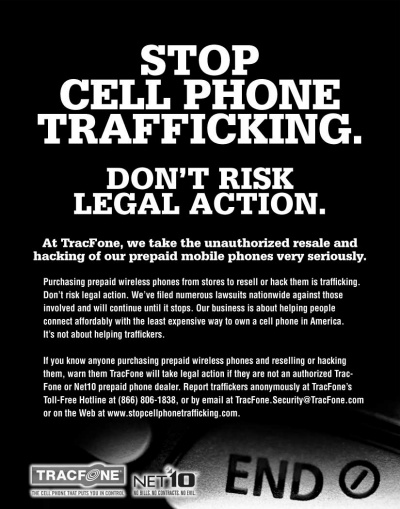 TracFone has been working with retailers, many of which have agreed to sell no more than two TracFones to one customer a day. But some people are going around that, hiring "runners" to buy two phones at a time from as many stores as possible, explained TracFone attorney Jim Baldinger of the firm Carlton Fields. Then someone unlocks the phones, either in the United States or elsewhere, takes out the SIM cards and resells the phones for a higher price in another country.
We know all too well about the two prepaid phones per person rule. It appears, though, that the stores that make these agreements don't bother to pass the information along to their employees, who have all sorts of explanations of why you can't get three prepaid phones for your three grandchildren.
We talked to Mr. Baldinger in an old episode of the Prepaid Podcast, who very articulately spelled out what's at stake here. Give it a listen.