Poll
Loading ...
Have problems with transferring your Tracfone minutes? Call the media
posted by Joe on October 23rd, 2008 - 7:27 am | Tracfone
If there's one universal theme throughout our Tracfone user reviews, it's the inordinate amount of time spent on the phone with customer service. This usually involves the transferring of minutes from one phone to another, an area in which Tracfone is particularly deficient. Seriously, go check out the user reviews. A good majority of the negative reviews involve this issue. Bobby Olley had this issue, and he called up his local CBS affiliate to get things done.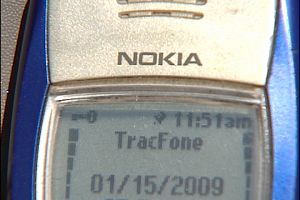 As soon as the threat of poor publicity set in, Tracfone quickly solved Mr. Olley's problem. Of course, it shouldn't take such measures to get an acceptable level of customer service. If you purchased minutes and want to transfer them to another phone, it should be a snap-snap process. It's not like it's an uncommon occurrence.
Tracfone's spokesperson, Cindy Jacobs, told us she wasn't sure why the minutes didn't get transferred. The good news was within minutes of our contact with her she got Mr. Olley back the minutes he lost. It's the kind of service Olley expected and finally received.
I have an idea of why the minutes didn't get transferred, and it starts and ends with Tracfone's customer service. I'm not sure whether the representatives are instructed to tell customers they can't do anything to help them in such situations, or if they're just not trained for them. In either case, the blame falls right on Tracfone. I've heard enough complaints to know that they don't treat customers as well as they could. Isn't it time they did something about it?