Poll
Loading ...
How to get rid of unwanted text messages
posted by Joe on June 5th, 2007 - 10:15 am | Text Messaging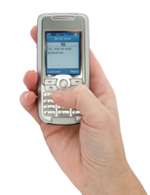 There was a time when spam was nothing more than a minor inconvenience. Junk mail turned into telemarketing calls, which turned into mass e-mails. In all cases, it took just a few seconds to ditch that inconvenience: throw out the letter, hang up on the caller, delete the e-mail. And then came spam blockers and do-not-call lists, making it much easier for us to avoid the advertisements we wish not to see.
But then they invaded our cell phones.
Well, not by calling us — after all, that is still forbidden by the Federal Trade Commission. But some companies have taken to spamming our text message inboxes with senseless advertisements. And text messages cost money — 15 cents per message with the four major providers (Verizon, Sprint Nextel, AT&T/Cingular, and T-Mobile).
The FCC has taken action in this regard, enacting CAN-SPAM (Controlling the Assault of Non-Solicited Pornography and Marketing), which forbids companies from sending you unsolicited commercial text messages and e-mails on your wireless phone. While that has stopped most big companies, smaller and less detectable companies continue to send spam and cost you money.
And it doesn't look to be getting any better. "Between 2005 and 2006, the volume of text message spam that reaches subscribers is expected to grow by 60%, according to market research from Ferris Research." Ferris projects that about one billion spam text messages will be sent in 2007. Though it may sound like a lot, 12.5 billion texts were sent in June 2006, just to put it in perspective. But perspective or not, even one spam text message is one too many.
Verizon has gone so far as to file suit against some known text spammers — and they've been winning. "Text messaging is a great and increasingly popular way to communicate, but unwanted or unsolicited text message spam to our customers' handsets is unacceptable," said Steve Zipperstein, vice president of legal and external affairs at Verizon Wireless.
Why would Verizon take such a stand against spammers? Well, they wouldn't want to jeopardize a $3 billion market. They also don't want to ruin text messaging as a legitimate form of advertising (well, as legitimate as it can be). Many companies already offer an opt-in service that sends text message alerts to subscribers. Service providers are also working on ways to send advertisements for themselves and for their partners through text messages. The presence of spam undermines these efforts.
Many spam text messages are attempts to inflate a certain stock. First National Power and Encore Clean Energy, both sued by Verizon, allegedly already taking action against e-mail spammers.
It's even worse in China, where "35 per cent of all 4,721 users randomly questioned across the country receive five to 10 spam messages a week, while 15 per cent get 10 to 20."
What can you do to prevent this?
For starters, you could turn text messaging off (though T-Mobile doesn't allow this for some reason). But that means the spammers won, and we can't have that. Why cut yourself off from such a convenient service because some companies decide to violate a federal act? On the other hand, you don't want these rogue companies running up your phone bill. There has to be a happy medium here.
Verizon and T-Mobile offer refunds for reported spam messages — though you should always call and report spam messages, no matter which service provider you have. Even if they don't issue a refund (which they should), multiple reports can lead to an investigation. You can also file a complaint with the FCC, though you will receive no refund from them.
Other than that, each provider has a way you can minimize the spam send to your inbox. You'll have to login to your account via your service provider's website, and look through to find an "options" or "preferences" menu item. This is where you'll be able to block certain numbers or e-mail addresses from sending you text messages. Most services will allow you to block messages sent from a website — which is where spam originates (its free and more conducive to mass messaging) You can also block text messages sent from e-mail.
Blocking all text messages is also an option, except with T-Mobile (this requires a call to customer service, not a trip to the website). Sprint Nextel and AT&T take this a step further and allows you to enter in only the numbers from which you wish to receive a text. This can be done through the website. This seems like the best idea so far. However, this will block anyone's number who you forgot to add to the list, including new numbers added to your contact list.
Unlimited or bundled text plans are also available with most providers. While this won't deter spammers from sending you messages, it will at least offset the cost. These plans start at 200 messages for $5 per month, and range all the way to unlimited for $15. Each provider has different text messaging options, so it's best to view the respective website.
There is little doubt that phone companies are at work trying to block out all unwanted solicitations. Why? They wouldn't want to miss out on the forecasted $2.9 billion to be spent on mobile advertising in 2011. A greater presence of spammers means less reaction to advertisements from customers. And less reaction means less money to the industry. Still, it would nice to see action taken by a company other than Verizon to stop these rogue operations from sending us unwanted messages and upping our phone bills.