Poll
Loading ...
T-Mobile SIMs On Sale for $0.99
posted by Liz E. on April 7th, 2015 - 8:20 am | T-Mobile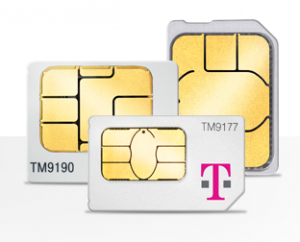 T-Mobile has launched the first SIM sale of the year this week with the introduction of a limited-time $0.99 SIM deal. This promotion is only available online and is advertised to end on April 23, 2015 so make sure you take advantage of it soon!
With this promotion, users can order up to five prepaid activation kits, which include a SIM card and activation code. Wireless kits are available in mini/micro and nano sizes, and mobile broadband SIMs are available as well in mini, micro and nano sizes. SIMs are normally priced at around $15, so this is a pretty good deal if you're looking to try T-Mobile.
To take advantage of this deal, consumers must click on this link and select the appropriate sized SIM card, then enter the SIM99 code on the checkout page.  With past T-Mobile SIM sales, customers are limited to no more than three SIMs per order, and no more than 5 in a one month period. While I haven't seen this listed in the fine print of this particular promotion, I would assume the same limitations apply.
If you're not sure what size SIM your device uses, you can check it here  by entering the device and carrier to determine what size SIM you need. Phones must be unlocked or compatible with T-Mobile's network in order to be used with a T-Mobile SIM.
T-Mobile offers various plans ranging from pay by the day to $30 or $60 per month for unlimited voice and text services. You can check the plan list here.