Poll
Loading ...
T-Mobile SIM Sale Is Back
posted by Liz E. on September 7th, 2015 - 12:57 pm | T-Mobile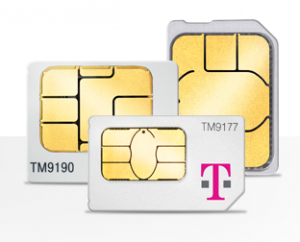 Less than a week after the expiration of the last SIM sale, T-Mobile has relaunched the promotion. Now through September 30, 2015, customers can grab some SIMs for $0.99 with the promotional code. Normally T-Mobile SIMs are priced at $15, so this sale is as awesome as it is frequent.
In order to activate any prepaid plan (including phones, tablets or hotspots), T-Mobile customers must purchase and activate a SIM card. The cards are sold as starter SIM kits with mini and micro adapters and an activation code. There is a limit of 3 SIMs per order and 5 SIMs in 30 days. The SIMs can be used as replacement SIMs for prepaid and postpaid.
Before you order a card, you'll want to check your device's compatibility on T-Mobile's site. Most unlocked GSM devices will be compatible. Before you checkout, you'll want to use the code SIM99 on the shopping cart page to get the promotional price.
T-Mobile prepaid has several plans that range from the $30 "secret" plan that can only be purchased on T-Mobile's website. This plan includes 5 GB of data, unlimited messaging and 100 minutes. Other plans start at $40 and include unlimited talk and text with varying amounts of data. Hotspot and tablet plans are also available. For a full list of available plans, visit T-Mobile's website.