Poll
Loading ...
T-Mobile Offers Phone Discounts with SCORE!
posted by Liz E. on January 28th, 2015 - 12:23 pm | T-Mobile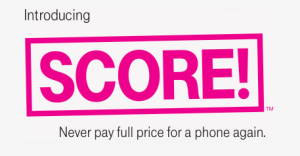 On Sunday, T-Mobile unveiled yet another program designed to try and retain customers and provide phone discounts. It seems like this is going to be a monthly occurrence. Regardless, as this program is one of the few that's available to both prepaid and postpaid, it is worth a look.
SCORE! is a new phone upgrade plan that costs $5/month and could land customers with a free "entry-level" phone after six months, or a discount on a more expensive phone after a year. Most of the smartphone upgrade plans are, in my opinion, worthless. You'd simply be better putting that money in a jar every month and going out and buying your own phone instead.
This program, however, could be really nice for T-Mobile fans. And here's why: After six months, you will have paid $30 into this program. Depending on what T-Mobile means by "entry level smartphone" you could easily get a phone worth $100 – $160 for that $30. That's not a bad return. Alternatively, if you wait six months, then you will have paid $60 and could get a discount that's more than double that (the press release suggested $150 discount) towards a newer flagship or mid-grade handset. That's not half bad, but not quite as lucrative.
The catch to the program is, of course, that you have to stick with T-Mobile for that full time in order to get the discounts. Also, T-Mobile has released the list of phones included in the free selection and the options for prepaid aren't too thrilling. You can take a peek at it here. The fine print also says that by opting in to the program, you're giving T-Mobile permission to advertise to you, which kind of sucks. Regardless, if you're a die hard pink carrier fan, this program is definitely worth a look.
For some reason, T-Mobile always reminds me of that kid in class who just couldn't sit still and always had to be doing something. You could say that the Uncarrier is hitting the ground running this year, first with the Simply Prepaid plans, then the Smartphone Equality program and now SCORE!. But to me, releasing so many big programs and changes so close together makes it look like T-Mobile is concerned about their customer base. Combined with the news that T-Mobile parent company Deutsche Telekom is still looking to sell, I won't be surprised to see more big changes in the smallest carrier this year.