Poll
Loading ...
T-Mobile Adds Free Roaming to Mexico, Canada
posted by Liz E. on July 10th, 2015 - 4:21 pm | T-Mobile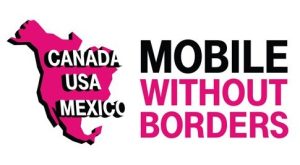 In recent months, calling other countries–specifically Mexico and Canada–has become more and more affordable on both prepaid and some postpaid plans. But roaming within those countries is, for the most part, still something of a nightmare which commonly requires additional SIM cards, international add-ons or other hassles. Well, T-Mobile has stepped up to the plate yet again and will soon be offering free calling and roaming in Mexico and Canada as part of its new "Mobile Without Border" campaign.
Mobile Without Borders is available to all customers on Simple Choice plans, which includes prepaid and postpaid customers. There don't really seem to be any other catches, and the service will be offered for free as simply another perk to your T-Mobile prepaid plan.
Currently, there are four Simple Choice plans available, but they can't be found on the main T-Mobile prepaid website (which seems to be dedicated to T-Mobile's newer Simply Prepaid offering). However, I believe you can choose a Simple Choice plan when activating a new plan or switching from a different plan; it's just not advertised right now.
Here are the Simple Choice plans:
$50 – unlimited talk, text, throttled data, 1 GB high speed data
$60 – unlimited talk, text, throttled data, 3 GB high speed data
$70 – unlimited talk, text, throttled data, 5 GB high speed data
$80 – unlimited talk, text, unlimited high speed data
The Mobile Without Borders addition will be available to current and new customers starting Wednesday July 15, 2015 and all customers should get it automatically so you won't need to do anything different.
This move is something of a challenge to AT&T, which has been purchasing numerous Mexican wireless companies and is offering mexico calling with several of its plans. AT&T stated earlier this year that it would be adding Canada calling and roaming as well, but I haven't seen any announcements about it yet, which would explain Legere's boasting in the press release.