Poll
Loading ...
T-Mobile $0.99 SIM Sale
posted by Liz E. on July 22nd, 2015 - 4:12 pm | T-Mobile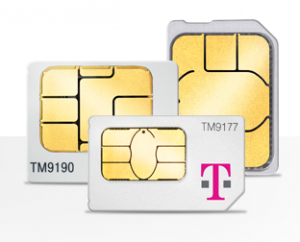 Well, it looks like T-Mobile has brought back its popular $0.99 SIM sale this month. Normally priced at around $15, this is quite a deal if you're considering making a jump to T-Mobile from another carrier. The SIM deal is available now through July 30, 2015. If however, you miss out on this promotion, T-Mobile renews it about every couple of months or so and I am sure there will be other opportunities.
To take advantage of this deal, you'll need to complete a compatibility check on this page to make sure that your phone is able to use T-Mobile's network. Generally any unlocked GSM device should work on T-Mobile, although some other devices may also be compatible. Once you've ensured that your phone is compatible and figured out what size of SIM to use, then you'll want to enter the code SIM99 on the checkout page to get the promotional price.
With a lot of T-Mobile's previous promotions, customers were limited in how many SIMs could be purchased and I believe this deal is subject to the same restrictions. Customers can order 3 SIMs per order and no more than 5 SIMs during one 30 day period.
T-Mobile offers several unlimited prepaid plans for both phones and tablets. Prices range from $40 – $60 and include unlimited talk and text. For more information on T-Mobile plans and services, visit T-Mobile's website.