Poll
Loading ...
T-Mobile $0.99 SIM Sale Relaunches
posted by Liz E. on June 25th, 2015 - 12:16 pm | T-Mobile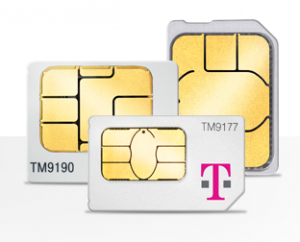 The last $0.99 SIM sale ended late last week, but it looks like T-Mobile has renewed the offer to potential customers looking to make the jump from their current carrier to the magenta Uncarrier. Now through Tuesday June 30, 2015, you'll be able to pick up a micro, nano or mini SIM to use on a prepaid or postpaid plan.
In order to take advantage of this sale, you'll need to first do a compatibility check on this page. In order to activate a device it must either be a T-Mobile phone or a compatible unlocked GSM device. Once you're sure your phone is able to work on the Uncarrier's network, then you'll want to order the SIM card or the SIM activation kit. There are multiple sizes, so be sure to check that you get the right size.
On the checkout page, you'll need to enter the code SIM99 in order to get the promotional price. Otherwise, you'll probably be charged the more expensive rate. Normally, T-Mobile SIMs go for around $15, but the company has a habit of doing $0.99 SIM deals every few months.
It's worth noting that with most of the previous promotions there has been a limit of 3 SIMs per order and 5 per household in a 30 day span. While it's probably safe to assume that the same restrictions apply to this promotion, there isn't anything specifically listed on the launch page.
T-Mobile's prepaid plans aren't half bad and include unlimited talk and text with a limited amount of data. The plan prices range from $40 – $60 and all include limited throttled data. Check T-Mobile's site for more information on plans. When you activate your device, you'll have to choose one of the plans and prepay for the first month's service.