Poll
Loading ...
T-Mobile $0.99 SIM Sale is Back
posted by Liz E. on August 8th, 2015 - 12:08 pm | T-Mobile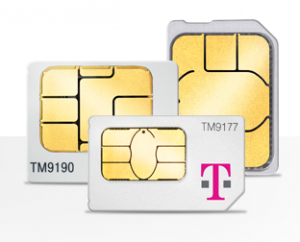 After about a week's absence, T-Mobile has brought back its $0.99 wireless SIM sale. Both wireless and mobiel internet SIMs are available and eligible for the special $0.99 discount. Normally, T-Mobile SIMs are priced at around $15 so it's a pretty awesome deals if you missed out on the last SIM sale and wanted to try T-Mobile. However, as always, I'm sure that it'll be back again soon so don't stress too much if you miss this one.
To take advantage of this deal, you'll need to check your device's compatibility through T-Mobile's site. Most unlocked GSM device and any T-Mobile device should be eligible, provided it's not super old. Once you're sure it will be compatible, add a SIM to your cart and use the code SIM99 at checkout to get the discounted price. SIMs are sold in starter kits and come in a variety of sizes including micro and nano. The code should work through August 13, 2015 so make sure you take advantage of it before then.
As with other T-Mobile $0.99 SIM sales, customers are limited to 3 SIMs per order and no more than 5 during a 30 day period.
T-Mobile has several prepaid offerings as far as plans go including 200 MB of free data for prepaid tablets and wireless unlimited talk and text monthly plans starting at $40 per month. For more information, visit T-Mobile's website.