Poll
Loading ...
StraighTalk to add Android handset in September
posted by Joe on August 23rd, 2011 - 7:30 am | Straight Talk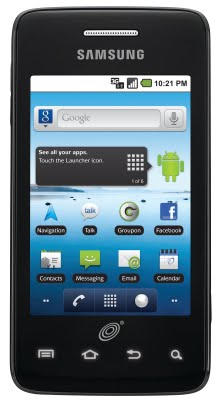 Not to be outdone by their prepaid competitors, Straight Talk is preparing to launch an Android handset. Dubbed the Samsung Galaxy Precedent, it is a near match to the Galaxy Prevail, which hit Boost Mobile earlier this year. That is, it has a 3.2-inch screen, 2 megapixel camera, and runs Android 2.2 (Froyo). According to the report, from BTIG Research via FierceWireless, the device will drop in September for $150. Furthermore, the report indicates that Straight Talk has "negotiated a new data wholesale agreement with a major wireless carrier in order to offer these data hungry products." That's presumably Verizon, which operates a CDMA network, which is what the Prevail runs on.