Poll
Loading ...
Straight Talk's Galaxy Precedent will run on Sprint's network
posted by Joe on September 12th, 2011 - 10:26 am | Straight Talk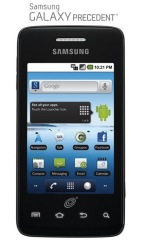 There has been some confusion lately as to which network would host the Samsung Galaxy Precedent, which is Straight Talk's first Android handset. Straight Talk uses multiple networks, but since the Precedent is a CDMA phone many assumed that it would run on Verizon's network. Verizon, if you'll remember, was the original host network for Straight Talk. Yet that is not the case. As Phil Goldstein of FierceWirless reports, the Precedent will run on Sprint's network. This makes sense, since the Galaxy Prevail, which is identical to the Precedent, also runs on Sprint's network via Boost Mobile.

If you get decent Sprint reception in your area and want to pick up the first Android handset from Straight Talk, you can head to Straight Talk's website to buy one for $149.99. It works best with Straight Talk's $45 unlimited everything plan.