Poll
Loading ...
Straight Talk to offer Verizon-powered Samsung Galaxy Proclaim
posted by Joe on May 7th, 2012 - 10:30 am | Straight Talk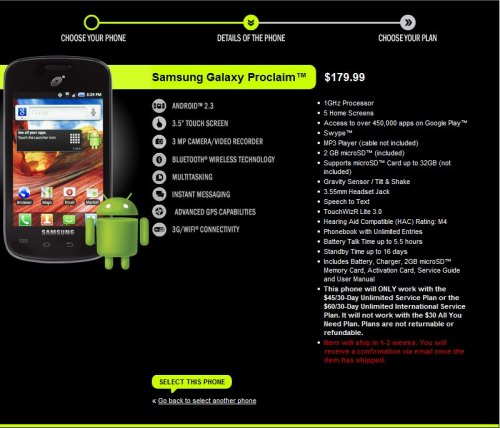 It's really amazing how Straight Talk continues to expand. Last year they began offering smartphone service via Sprint's CDMA network. They've unveiled a number of Android handsets to go along with that offering, including the LG Optimus Q, the Samsung Galaxy Precedent, and the LG Optimus Black. Now, not even a week after Verizon prepaid began offering an $80 smartphone plan, Straight Talk has picked up a Verizon phone, the Samsung Galaxy Proclaim, for its network. It certainly creates a new level of competition.
As you can see on the specs page above, the Galaxy Proclaim is no joke. It features a 1GHz processor with a 3.5-inch touchscreen. It might not be the the highest-end Android on the market, but it's certainly one of the best on a prepaid carrier. And it's priced right at $179.99 — just $10 more than Verizon's prepaid Android offering.
PhoneNews.com's Humberto Saabedra provides additional details. "StraightTalk reps have been quoted as saying that the Proclaim will feature a 4GB monthly data allotment compared to Verizon's own 1GB plan." The 4GB number seem to also be high compared to Straight Talk's allotment with Sprint phones, which seems to be around 2GB per month and 100MB per day. Keep in mind, however, that none of the above numbers is official; every one is based on rumor.
Straight Talk says the phones will ship in a week or to. They are, unsurprisingly, available only with the $45 unlimited monthly plan or the $60 unlimited international plan. You can preorder yours at Straight Talk's website.