Poll
Loading ...
Straight Talk getting LG Optimus 2X
posted by Joe on January 18th, 2012 - 7:30 am | Straight Talk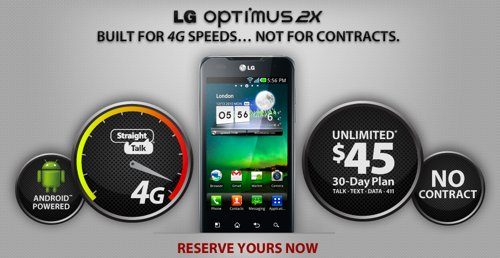 It appears as though Straight Talk is gearing up for another Android handset release. This one will be the LG Optimus 2X, and it comes with a little twist. It will actually have an LTE radio, so it will be a rare prepaid Android smartphone running on a 4G network. According to PhoneNews.com, it will run on AT&T's LTE network. The phone itself isn't particularly high end in terms of new Android handsets, but it's near the top of the prepaid food chain: 1GHz processor, 800×480 display, 8-megapixel camera with 1080 video capture, and a front-facing camera. The big thing, of course, will be the LTE data on Straight Talk's $45 plan. There is no word on pricing or availability, but as usual you can sign up to reserve your copy. Just visit Straight Talk's reserve page for more details.