Poll
Loading ...
Straight Talk Pre-Cyber Week Deals
posted by Liz E. on November 29th, 2014 - 12:47 pm | Straight Talk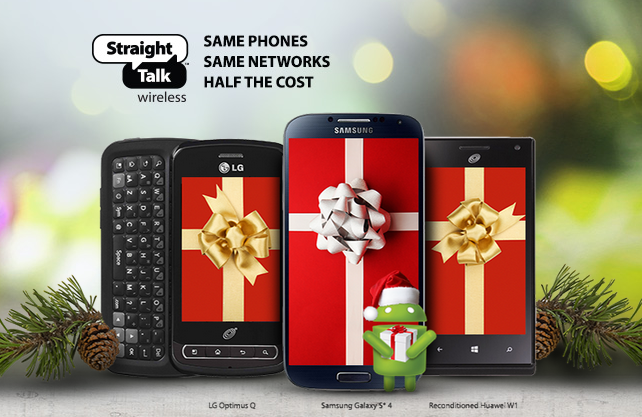 The first Saturday after Thanksgiving is, in my opinion, one of the better days to do holiday shopping. All of the Black Friday insanity is past, but there are still some lingering Black Friday deals, and upcoming Cyber Monday deals. It's the twilight of holiday savings, when you can get some pretty sweet savings without as much trouble.
If you are a Straight Talk fan, then you are in luck because they have some pretty nice holiday deals going on right now for both Black Friday weekend shoppers as well as Cyber Monday online shoppers. Some of these phones are not discounted by very much, but a few, such as the LG Optimus Logic, are nearly half off.
Check it out:
Samsung Galaxy SIII – $279.99 or $99.99 (refurbished) (reg. $339.99)
LG Optimus Q – $9.99 (reg. $49.99)
Samsung T528G – Free (with plan activation)
ZTE Midnight – Free (with plan activation)
Samsung S380C – $9.99 (reg. $39.99)
Huawei W1 – $149.99 (reg. $199.99)
Samsung Galaxy Centura – $59.99 (reg. $99.99)
Samsung Galaxy Discover – $49.99 (reg. $99.99)
Huawei Ascent plus – $59.99 (reg. $129.99)
LG Optimus Logic – $29.99 (reg. $59.99)
ZTE Savvy – $34.99 (reg. $49.99)
ZTE Majesty – $59.99 (reg. $179.99)
LG Optimus Dynamic II – $79.99 (reg. $99.99)
Samsung Galaxy Ace Style – $129.99 (reg. $149.99)
Huawei Ascend Y – $19.99 (reg. $49.99)
phones all have free overnight shipping on all orders more than $29.99, plus a 30 day return policy, so if your giftee wants a different color or style, no problem! I'm not the biggest Straight Talk fan myself, but their network is pretty good and some of those deals are definitely worth the time.