Poll
Loading ...
Straight Talk adds Samsung Galaxy S3
posted by Joe on May 20th, 2013 - 7:30 am | Straight Talk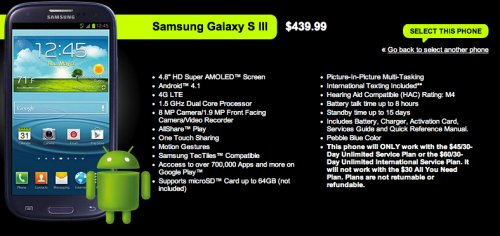 Strange, I saw this on the Straight Talk website last week, but it didn't really click that it was something new. Lo and behold, the Straight Talk blog announced on Friday that they were indeed selling the Samsung Galaxy SIII. We needn't run down the specs for it at this point; nearly every carrier, prepaid and postpaid, carries it at this point. It's actually a great time to get one, since it's getting discounted with the Galaxy S4 about to hit markets nationwide. It will cost you $439.99, which isn't half bad for a non-subsidized phone.