Poll
Loading ...
The encyclopedia of ringtone sites
posted by Joe on June 5th, 2007 - 9:56 am | Ringtones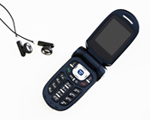 You've got your brand spankin' new prepaid service up and running. You've activated it and added airtime. So what's next? Download some sweet ringtones, that's what. Your ringtone says a lot about you, so picking the right one is a tough decision. You'll need a wide selection.
So you head to your provider's website to see what they have available there, but it's nothing notable. Or, worse yet, maybe your provider doesn't even have a ringtone download service. So what, are you stuck with the built-in ringtones?
Of course not.
The Internet is filled with sites offering ringtone downloads — possibly too many. In fact, googling "ringtones" has become a futile act. There is so much crap to sift through that you'll never find what you're looking for (don't even bother with the sponsored sites or the advertisements on the side, unless you enjoy pop-ups and pages that have little, if anything, to do with your search). Don't fret, though.
We've trawled the Internets and have come up with the most comprehensive directory of ringtone sites available for prepaid subscribers. We'll separate it into sites for free ringtones (which always carry paid premium content, too), paid services (most of which are subscription-based), and software for you to create your own ringtones.
In order to download these ringtones, your phone must have an internet connection (WAP). Back in the day, sites could send a SMS message to your phone containing a ringtone, but that was for monotones and small polyphonic tones. In the age of realtones (i.e., MP3 tones), it's not that simple. Unfortunately, many providers don't offer internet connections. Check with your provider to see if you're eligible.
A quick note: as with any service you sign up for, make sure you check the terms and conditions before you register. Apparently, some of these sites can charge you via your service provider (we learned this lesson when browsing through Cellfish). You wouldn't want to get a bill at the end of the month for something you thought was free. Make sure to check out your provider's policy on WAP usage as well.
Also, make sure to also read the privacy policy. The last thing you want is to be receiving telemarketing calls on your cell ($$).
Free/Pay Per Download
Most sites that offer free ringtone downloads also have a premium catalog. The ringtones in the premium category are usually pay-per-download. Not a bad deal if you're on the hunt for a timeless song. Not exactly ideal if you change your ringtone weekly. However, they're a dying breed.
Cellfish. There is a selection of free and premium songs on Cellfish, most of which is user-provided. Members can upload 20-second ringtones, full songs, videos, images and more, all of which is available for you to download. It uses a credit-based system, so you only pay for the premium content that you use.
Ringtone Evolution. These guys offer the gamut: full songs, 20-second ringtones, games, wallpaper, and more.
Subscription Sites
If you change your ringtone on a regular basis, joining a subscription site may be the best plan for you. Pay per month and receive a certain number of downloads. Check out the list and see which one best fits your musical needs.
PlayPhone. This is a hybrid pay-per-download/subscription site. You pay a subscription price of $9.99 per month, which gives you 14 download credits (20 for the first month). Each song has a different credit value, so you may only get three downloads per month if you're using the most premium ringtones.
SendMeMobile. This is another hybrid site with subscription and pay-per-download options. Pay $9.99 per month for 10 credits and SendMe Mobile will give you another 10 bonus credits. So, 20 credits per month or $2.99 – $4.99 per download Similar to Flycell, songs have different credit amounts.
Streetunes. Another hybrid pay-per-download/subscription site. They offer six downloads for $5.99 per month, or 12 downloads for $9.99 per month.
RingRingMobile. It costs $9.99 per month — but that's really all the information they give you. We'll be honest: we weren't about to enter our number into this one. Nothing was specified beyond the price. If you can't find what you want elsewhere, maybe this is worth a shot. Buyer beware.
Flycell. For $9.99 per month, you get 20 download credits. Each song has a different value, though we're not sure how it's determined. Featured songs on the main page — new songs — are 4 credits. However, "Ain't No Love in the Heart of the City" by Whitesnake is 6 credits. What ever happened to supply and demand? Tracks are also available on a pay-per-download basis, ranging from $2.99 to $4.99 per song.
Blue Frog Mobile. Despite the name, it is not a mobile service provider. It does provide access to its ringtone catalog for $9.99 per month. This covers 10 downloads, which can include ringtones or wallpapers.
GetPhoneTones. Another one where you pay $9.99 per month and get 10 credits (though it's unclear what one credit can get you). Unfortunately, unless you activate an account (which means paying them), you can't see the catalog.
Unlimited Subscription Sites
For the attention-deficient among us, unlimited subscription sites may be the cure. They offer a flat rate for unlimited downloads. So you can have a different ringtone for everyone in your phonebook — and change it every day, if you want — and pay the same price, no matter what.
Unlimited Ringtones. This subscription site runs from $1.99 weekly to $9.99 monthly, depending on the level of service you want. There is plenty to choose from: full songs, 20-second ringtones, polyphonic ringtones, wallpapers, and more.
RingOPhone. This subscrption-based site offers either six-month ($3.30 per month) or 12-month ($2.50 per month) plans. Thousands of ringtones can be found here, as well as wallpaper and other graphics.
FreeRingers. Get unlimited access to their catalog of nearly 2,000 ringtones for just $7.99 per year. Wallpaper and even those silly polyphonic tones are also available.
Community Sites
Myspace has taken social networking to the next level. Everyone's trying to jump on the bandwagon, including ringtone sites. Really, it is an ideal forum to create and share ringtones. Create your own, upload it, and share it with everyone.
FunForMobile. This site is just fine if you already have software on your computer that will make your audio files into ringtones (if you don't, there are some listed below). Unfortunately, there is no song editor on-site.
Phonezoo. This is another community-based ringtone site. Users can use the on-site software to create ringtones from their own audio files and upload them to the site. From there, other users can browse and use them. Best part: it's free.
Myxer Tones. This community site stands out because it reaches out to independent artists and allows them to sell (or give away) their songs as ringtones and paintings as wallpaper. You can also create an download your own songs and wallpaper (free), or choose from Myxer's premium catalog. Note: apparently, even though artists can charge for their ringtones, Myxer reserves the right to give them away for free. Just sayin'.
Mobile17. The only thing that makes this site really stand out is that they make everything as easy as possible. They swear they won't spam you or give out your info — just one more reason to always read the privacy policy.
Zedge. This community site adds a voice maker tool, allowing you to create nutty voice tones, or to add voice to your existing tracks. A very flexible ringtone creator helps, too.
Software
Plenty of small, simple programs have popped up that allow you to take songs from your computer and create ringtones. What could be easier? Instead of searching the Internet endlessly for your favorite song, you can take it right from your computer.
Ringtone Ripper. As simple as it gets. Download the software, follow the instructions to make your favorite song a ringtone, and download it to your phone. You don't even need another service to get moving with this one. Oh, and it's free.
Ringtone Media Studio. This is very popular ringtone creation software. Just $29,95 makes it yours.
Create-Ringtone. A very user-friendly program available for just $19.95. You can give it a whirl for free, too.
DJ ToneXpress. In addition to the ringtone creator, his comes with free plug-ins to create wallpaper, as well as a program that compresses full songs into a format playable on cell phones, and a program that allows you to send mass text messages for free.