Poll
Loading ...
Republic Wireless now available to consumers nationwide
posted by Joe on November 20th, 2012 - 7:30 am | Republic Wireless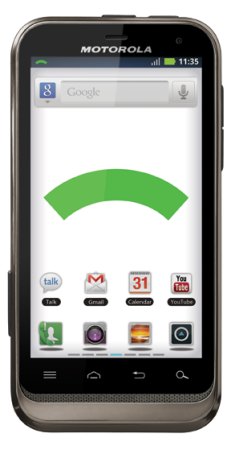 After a year of beta testing, Republic Wireless is ready to spread its message nationwide. Yesterday they announced full availability of their services, the first time they've allowed open enrollment in their short history. Now for $19 per month anyone can get unlimited talk, text, and data with Republic. It requires purchasing the Motorola Defy XT, pictured above. It's an Android 2.3 Gingerbread device, which is a bit disappointing at this point in the game. However, it's necessary for Republic, which has created a hybrid system that utilizes WiFi wherever available. It's a pretty low-end handset by modern standards, but that's the price of paying less than $20 per month for cell phone service.
The Defy XT costs $249, and customers can order it on Republic Wireless's website. It's actually a pre-order, though they don't say exactly when it will ship. The phone costs $249, plus a $10 startup fee that includes shipping and handling. Once the handset ships, Republic charges customers $19 for their first month of service. Along with the phone comes a 30-day money back guarantee, so customers can return it if they're not satisfied. (That is, if it really is too good to be true.)
Now that Republic is available to all, are you going to make the switch?
Via Republic Wireless via Phone Scoop.