Poll
Loading ...
2nd Gen Moto X Available on Republic Wireless
posted by Liz E. on December 10th, 2014 - 5:46 pm | Republic Wireless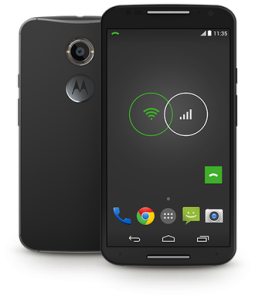 Are you excited yet? As of today, the second gen Moto X has come to Republic Wireless and will cost a full Benjamin Franklin less than unlocked or from other carriers. Cue the champagne!
In more seriousness, though, this is pretty great news for this WiFi-first Sprint MVNO and at $399, it's definitely a steal. The 2nd gen Moto X can be purchased from Republic Wireless in black or you can use Motorola's MotoMaker to design your own phone with whatever colors you want, a custom wallpaper and start up message and even add a custom engraving on the back, without a huge hit to the wallet. I assume the engraving and such will cost a little extra, but it is still going to be way cheaper.
The 2nd gen Moto X supports Sprint's LTE network and comes with some pretty awesome features such as Moto Voice (a voice-activated assistant like Cortana or Siri), Moto Display, Moto Actions (proximity sensors so you don't have to touch the phone for some things) and Moto Assist (driving assistant). The hardware specs are pretty sweet, and the device comes shipped with KitKat (with an update to Lollipop on the way), 13 MP camera, 2.5 GHz snapdragon quad-core processor, 2 GB RAM and 8 GB internal memory. It is worth noting that the first generation Moto X (which is smaller and has slightly less features) is already available and can be purchased for $299.
You can activate this plan on one of Republic Wireless' extremely affordable plans, which range from $5 to $40 per month, depending on how frequently you can access WiFi. For more information or to check out this deal for yourself, visit Republic Wireless' website.