Poll
Loading ...
Moto E Comes to Republic Wireless
posted by Liz E. on October 17th, 2014 - 4:10 pm | Republic Wireless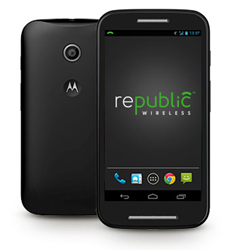 Republic Wireless has announced a new addition to their smartphone lineup. The new Moto E is part of Motorola's popular Moto line, which also includes the Moto G and Moto X. This entry-level phone is very similar to its more expensive counterparts and has some pretty good features for a reasonable price.
"Our vision from the beginning has been to offer no compromise devices for every budget. Not everyone needs or wants a smartphone with all the bells and whistles – many consumers, especially those upgrading from a flip phone or buying their first smartphone, tell us they want 'just the basics'," said David Morken, co-founder and CEO of Republic Wireless. "…the Moto E is a perfect home phone replacement or first smartphone for 'tweens, teens, students and grandparents." The Moto E is available now and will retail for $99.
For those more interested in the actual technical specs of the phone, here they are:
4.2 inch screen with Corning Gorilla Glass 3
Android Kitkat 4.4
Dual-core 1.2 GHz Cortex A-7 Processor
Snapdragon 200 chipset
1 GB RAM
4 GB storage
microSD slot, up to 32 GB
5 MP camera
1980 mAh battery
The phone features Motorola Alert and Motorla Assistant as well.
Republic Wireless is one of the least expensive MVNOs in the market, with plans starting at $5 and a unique Wifi-first network. For more information about Republic Wireless plans and community, visit their website.