Poll
Loading ...
Red Pocket Gets LTE with AT&T
posted by Liz E. on September 15th, 2014 - 8:51 am | Red Pocket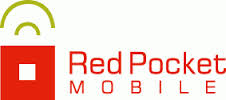 Red Pocket Mobile has made a few changes recently, the most exciting of which is the addition of an LTE plan to their GSMA lineup. The GSMA plans are powered by AT&T, but Red Pocket also offers plans from Verizon, Sprint and T-Mobile.
The new GSMA 4G LTE plan costs $69.99 and includes unlimited talk, unlimited text and 4 GB of 4G LTE data. Unlike other Red Pocket Mobile plan offerings, which allow for reduced data after the allotment, this plan has a hard data cap at 4 GB.
Red Pocket has also changed the name of their Verizon plans from CDMAV to CDMA. I didn't see any differences in the actual plan prices–only the name. I presume this plan is due to Verizon's policies to not allow MVNOs to list Verizon's name with the plans they offer. The other plan names have not changed.