Poll
Loading ...
T-Mobile One Cent Prepaid SIM Sale
posted by Liz E. on September 5th, 2014 - 3:31 pm | News, Prepaid Services, T-Mobile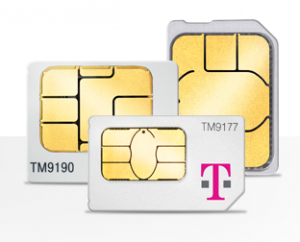 In case you missed their SIM sale from last month, T-Mobile has brought the prepaid penny SIM deal back! You can get up to five SIMs for one penny each until Sept. 10. There is a limit of 3 SIMS per order and no more than 5 SIMs in 30 days. Normally, SIMs from T-Mobile cost $10, so if you wanted to add more than one phone, the savings could be phenomenal.
To get the penny deal, follow this link and use the code SIMDEAL. Both micro and nano SIMs are available, as are SIM kits. If you aren't sure what kind of SIM your phone needs or whether it's compatible with, check this page for more information. You can enter your phone to make sure it works and double check what size you need by comparing it to the chart.
T-Mobile has several options for their prepaid customers and some cool perks like unlimited music streaming with Music Freedom on select plans.
Here are the no-contract monthly plans available currently:
$30 – unlimited text and web (5 GB high speed, unlimited lower speed), 100 minutes
(This plan is only available for devices purchased from Walmart or activated on T-Mobile's website)
$35 –  unlimited talk and text, no data
$40 – unlimited talk and text, 500 MB
$45 – unlimited talk and text, 2 GB
(limited time offer, but you can be grandfathered in when it ends)
$50 – unlimited talk and text, 1 GB
$60 – unlimited talk and text, 3 GB
$70 – unlimited talk and text, 5 GB
$80 – unlimited talk, text and data, 5 GB hotspot
They also offer a Pay As You Go option and a Pay By The Day option for light users.
For the Pay As You Go, you can spend a minimum of $3 per month and pay $0.10/minute/message. High speed data access can be purchased daily or weekly for an additional cost.
Pay by the Day costs $2 – $3 per day, depending on what services you want for just that day. When you pay by the day, you can get unlimited talk, text and unlimited lower speed data for just the days you need it.