Poll
Loading ...
Prepaid Podcast, October 2009 — Episode 12
posted by Joe on October 30th, 2009 - 12:00 pm | Prepaid Podcast
Once again there were many developments in the prepaid wireless world, and we're going to run them down. AT&T made a bold move that could turn some attention their way. Plus, another company that has an unlimited plan just made things a little sweeter.
So click on over to hear the Prepaid Podcast.
And don't forget to subscribe to the podcast so you won't miss any future episodes. You can also subscribe to the podcast on iTunes.
Highlights include: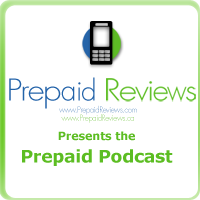 AT&T added an unlimited GoPhone plan. Well, really, they just improved the price on it. Before it was $3 per day and didn't include messaging. The new plan includes both unlimited voice and text, and costs $60 for the whole month. It's not as comprehensive or as cheap as other prepaid unlimited offers, but clearly AT&T is leveraging its brand name and its network.
Page Plus added to its stable by re-introducing their first Talk n Text plan. Over the summer they upgraded the original plan to unlimited talk, text, and 20 MB of data for $40. Now they've added a $30 option, which includes 1,200 minutes, 1,200 messages, and 50MB of data. The company now has two deals similar, though not identical, those offered by Straight Talk.