Poll
Loading ...
Prepaid Podcast, July 2009 – Episode 10
posted by Joe on July 31st, 2009 - 10:30 am | Prepaid Podcast
We're back with another edition of the Prepaid Podcast. This month we're talking about some recent industry moves. This includes Sprint's acquisition of Virgin Mobile among others. Things are moving in the prepaid world, thanks to new and hefty monthly plans. The latest on the bandwagon is Tracfone, which unveiled its Straight Talk service at the beginning of July.
So click on over to hear the Prepaid Podcast.
And don't forget to subscribe to the podcast so you won't miss any future episodes. You can also subscribe to the podcast on iTunes.
Highlights include: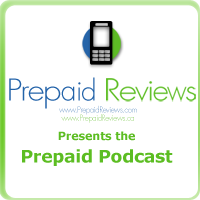 Speaking of hefty plans, we also get into a bit about Zer01, a mobile company which has promised big but has yet to deliver. Their promises of "5G" speeds are overblown and hyperbolic, but still they claim to have a new way of distributing wireless service. It involves mutli-level marketing, an idea that hasn't gone over well for the majority of people who try it. We'll see where Zer01 ends up, but right now it's not looking good.