Poll
Loading ...
Prepaid Podcast: January 2009 – Episode 6
posted by Joe on January 28th, 2009 - 12:00 pm | Prepaid Podcast
We're back, though you might notice something a bit different in this month's Prepaid Podcast. Namely, there are no guests. This is because I wanted to provide some outsider commentary on the state of the prepaid sector as it relates to the economy. Why does prepaid make sense now? Listen for the details.
So click on over to hear the Prepaid Podcast (22 min, 24 sec).
And don't forget to subscribe to the podcast so you won't miss any future episodes. You can also subscribe to the podcast on iTunes.
Highlights include: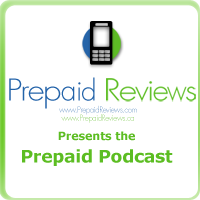 We know there are plenty of myths about prepaid wireless. Many people think that it costs more per minute. That's not exactly true. There are some situations where you can get a better per-minute value from postpaid, but if you're budgeting and watching your usage, you can get much more value out of prepaid.
I also discuss the rough pricing model of the postpaid wireless industry. The idea is that while your phone is subsidized, you're not really receiving a discount. The wireless carriers make up for the loss on the phone with service costs, meaning you're paying them back by paying more per month than you could be. Prepaid takes that out of the equation. You're only paying for minutes you use.
There's plenty more, so make sure to check it out. Email me (editor prepaidreviews com) or leave a comment.