Poll
Loading ...
Prepaid Podcast: February 2009 – Episode 7
posted by Joe on February 26th, 2009 - 1:01 pm | Prepaid Podcast
This month's edition of the Prepaid Podcast features Neil Lindsay, VP of Marketing for Boost Mobile. We talk about a number of topics, the foremost of which obviously being the new unlimited plan. Lindsday has a lot to say about his company's moves of the past few months, so give it a listen.
So click on over to hear the Prepaid Podcast.
And don't forget to subscribe to the podcast so you won't miss any future episodes. You can also subscribe to the podcast on iTunes.
Highlights include: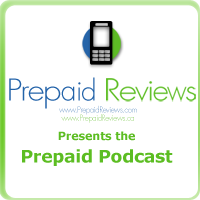 We talk unlimited with Lindsay, and he answers a number of questions about what Boost was thinking with this plan. We get into the issue of their now-defunct Premium plans, and whether there's a chance we could see one or two of them pop up at a lower price point than the $50 plan.
We also jabber a bit about handsets and what we can expect to see in the future from Boost. I played with the Motorola i9, which was superb. It's a bit big, but considering all the features I consider it worth it.
Finally, we get into some demographic issues, and what Boost has in store for its customer service operations.