Poll
Loading ...
Prepaid Podcast: April 23, 2008 – Episode 1
posted by Joe on April 23rd, 2008 - 11:29 am | Prepaid Podcast
We're trying something new here at Prepaid Reviews. It's a monthly podcast, where we discuss any matters prepaid. It won't be a news roundup, but a more in-depth look at the comings and going in the prepaid wireless industry. We lined up a couple of guests for you: Yassine, co-founder and executive vice president of Page Plus, and Brad Houser, project manager of data services at Cricket.
So click on over to hear the Prepaid Podcast (23 min, 34 sec).
And don't forget to subscribe to the podcast so you won't miss any future episodes.
You can also subscribe to the podcast on iTunes as well.
Highlights include: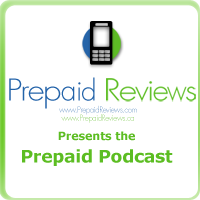 A discussion of T-Mobile's FlexPay plan, which mimics their traditional postpaid plans, but on a prepaid basis. It's an alternative for people who talk too much for pay-as-you-go, but who don't want a stifling two-year contract.
Then we talk to Yassine from Page Plus. Ever year the term "funny money"? It might sound bad, but it's a system they use at Page Plus to give the best value to their users. Just another reason they stay on top of the prepaid game.
Notice the line of falling MVNOs? There's got to be a reason behind that, right? I take a walk through the land of the dead, and talk about possible reasons why they failed. Note: You can't pack too many entities into one niche.
Finally, it's time to talk prepaid data with Brad from Cricket. Think mobile broadband cards are only for people who travel with their laptops? Think again.