Poll
Loading ...
ZTE Unveils Affordable Smartphone
posted by Liz E. on September 18th, 2014 - 12:29 pm | MetroPCS, Prepaid Phones, T-Mobile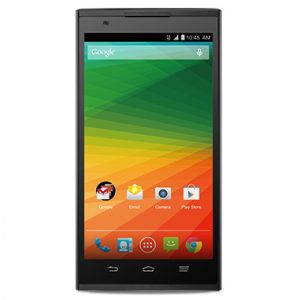 ZTE unveiled a new ginormous smartphone yesterday that is aimed at budget-conscious consumers. Sold exclusively through T-Mobile (with MetroPCS slated to get the phone later this year), the new ZMax is set to be released on Sept. 24 and features a whopping 5.7 inch screen and pretty good specs and a huge battery that is said to last a couple of days on a charge. The ZTE ZMax is expected to retail for $250 without a contract.
This phablet runs a bare-bones Android OS and some pretty decent specs for the price:
Android Kitkat 4.4
5.7 inch screen, 720p HD display
1.2 GHz quad-core Snapdragon 400 processor
2 GB RAM
16 GB storage
microSD slot
NFC chip
3,400 mAh battery
8 MP rear camera
1.6 MP front camera
Personally, I'm not a huge fan of the large phones, and this one pretty massive and weighs 6.7 oz. The cameras aren't bad, but the 720 display isn't going to look really great on such a huge phone. I haven't seen it in person yet, so I'm not sure how noticeable it will be. Regardless, for $250, it's not a bad starter and might be nice to see if you like the phablet style without dropping too much cash.