Poll
Loading ...
Verizon Rebrands Droid Razr M as Motorola Luge
posted by Liz E. on August 28th, 2014 - 9:12 am | Prepaid Phones, Verizon Wireless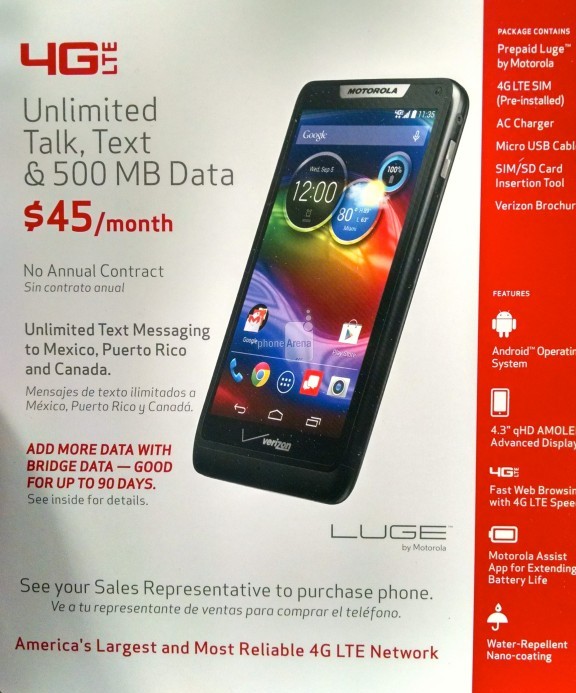 Since Monday the smartphone community has been abuzz with leaks of Verizon's new 4G LTE-ready prepaid phone, the Motorola Luge. Aside from the rather odd name, something that caught everyone's attention is the familiar design. And it should look familiar–it's pretty much exactly the same as the Droid Razr M released in 2012, but with a few updated specs.
The specs I could find for the Moto Luge are: 1.5 GHz Qualcomm S4 Plus MSM 8960 Snapdragon processor, Android KitKat 4.4, 1 GB RAM, 8 MP rear camera, 4.3 inch display (540×960 qHD), bluetooth 4.0, NFC and a 2000 mAh non-removable battery. There are rumors that the Luge will also feature Gorilla Glass 3, but no confirmation yet. Comparing to the most recent Droid Razr M specs, the main differences between the Luge and Droid Razr M is the increased RAM, OS upgrade to 4.4 (from 4.1), different processor (which has very similar specs) and the possible addition of Gorilla Glass. The new Motorola Luge will also be compatible with Verizon's XLTE.
The Motorola Luge is scheduled to be launched on Verizon Prepaid today, and should be around $150.
Image by Phone Arena