Poll
Loading ...
T-Mobile Adds ZTE Obsidian to Lineup
posted by Liz E. on August 7th, 2015 - 8:46 am | Prepaid Phones, T-Mobile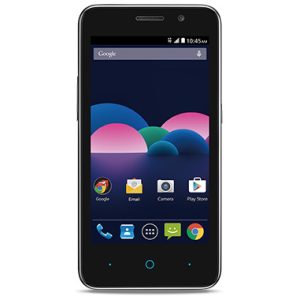 In a world of phablets bigger than my head, small phones are becoming little hard to find. But, if you're in the market for an entry-level, hand-sized smartphone then the new ZTE Obsidian from T-Mobile might be worth a look.
With a screen measuring just at 4.5″ this phone reminds me a lot of the older devices that used to be common before smartphones became the 6 inch behemoths they are now. While it's definitely going to feel like an entry-level phone, the size itself and the basic capabilities will appeal to a lot of people, I expect.
Here are the specs for this little device:
Android Lollipop 5.1
1 GHz quad-core processor
1 GB RAM
4 GB memory
SD slot (up to 32 GB)
5 MP back camera
2 MP front camera
4G LTE capable, Bluetooth, Wifi Calling, GPS connectivity
The device should hit stores and T-Mobile's website on August 13 and is expected to cost around $99. It might sound a little on the pricey side, but it does come with the newest Android OS, which means it will get you much farther than older devices still running KitKat.
When it becomes available, you'll be able to pick one up here.
T-Mobile's prepaid plans start at around $40 and aren't a bad deal if you are a fan of the network. You can either purchase a new device like the ZTE Obsidian or activate your own device. Learn more about T-Mobile prepaid plans and services on the T-Mobile website.