Poll
Loading ...
T-Mobile Adds New Feature Phone to Lineup
posted by Liz E. on April 30th, 2015 - 12:12 pm | Prepaid Phones, T-Mobile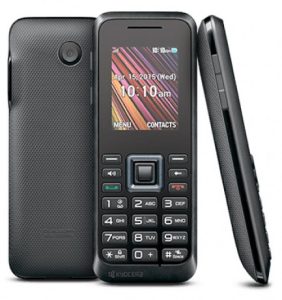 Smartphones are wonderful and they can do an incredible range of things. However, if you are one of the millions who really just want a phone to make calls, then a $200 smartphone probably isn't a good fit. There is something elegant about a feature phone that only does a few things, but does them well, and Kyocera gets that. Earlier this week, Kyocera and T-Mobile came together to introduce the Kyocera Rally, a new feature phone that's maybe a little more sleek than most other feature phones.
You won't find tons of extra bells and whistles on the Rally. It is, first and foremost, a phone which means that it has an excellent speaker and tons of communication options including regular calling, speakerphone (with a dedicated button), voice recognition, text-to-speech, SMS, MMS and email. But the Rally doesn't stop there. It also has a handful of useful tools like a calendar, stopwatch and world clock. The phone comes with Bluetooth for a hands-free calling option as well as a microSD slot and a camera. Unfortunately, the camera is VGA, so don't expect the best photos, but it's still better than nothing.
The Rally also boasts a slender and small profile that fits easily in the hand or pocket, with large separated buttons for easy dialing. The device has a high contrast but rather small LCD color screen which Kyocera claims will be easy for consumers to read, but I personally wonder at that a little. If you have trouble with your eyesight I might recommend going and actually testing the device before you buy as the screen itself is only 1.8 inches. However, despite this, it looks like a pretty solid feature phone with good battery life.
"In a world dominated by smartphones, Kyocera Rally offers unique value as 'the smarter feature phone.' It is designed specifically for people who don't want the bells and whistles of a smartphone. And according to our research, there are 73 million of them out there," said Eric Anderson, senior vice president and general manager of global sales and marketing at Kyocera Communications in a statement.
The Rally will be available for customers on T-Mobile's Simply Prepaid plans immediately. The device will retail through T-Mobile for $30, although a specific date for release was not set. The website doesn't have the phone yet, but it should be available in stores soon. For more information visit Kyocera or T-Mobile websites.