Poll
Loading ...
Sprint, Boost, and Virgin Debut Samsung Galaxy J3 Emerge
posted by Liz E. on January 2nd, 2017 - 12:47 pm | Boost Mobile, Prepaid Phones, Sprint, Virgin Mobile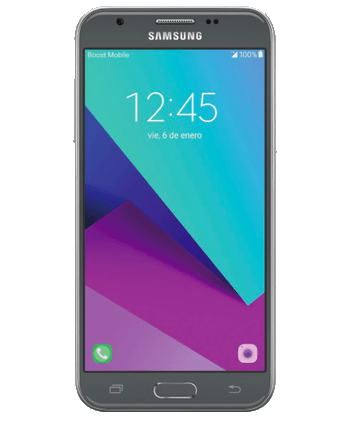 Designed to be a Moto G killer, the original J3 was a mildly popular midrange device rumor has it that the device will be getting a slight upgrade for 2017. Available through Sprint brands including Virgin Mobile and Boost Mobile, the new Samsung Galaxy J3 Emerge features some of the same and a little bit of upgrade on what looks like a pretty basic middle-of-the-road phone.
Here's what the specs look like:
Android Marshmallow
720×1280 pixels (~294 ppi)
5 inch capacitive touchscreen
Octa-core 1.4 GHz Cortex-A53
Snapdragon 430 chip
16 GB internal storage (with microSD slot)
2 GB RAM
5 MP camera, 2 MP front camera
Removable Li-Ion 2500 mAh battery
Several of these specs, including the screen resolution, camera, and battery. While the original J3 device received pretty mixed reviews placing it as a decent option but nowhere near the best choice on the market, this phone looks like it will be following in those footsteps.
For me, personally, the 5 MP camera (which rumor has it will be fixed focus, althouhg I couldn't confirm) is kind of underwhelming, although the removable battery and expandable storage is pretty nice. Overall, this looks like it will be a good entry level to midrange phone.
Although there aren't prices listed anywhere yet, the Galaxy J3 originally debuted at around $150. It's probably a safe bet that this re-imagining will be under the $200 mark as well, simply by comparing the specs of the two phones, although with Samsung it's hard to say. Regardless, the device should be available on Sprint prepaid, Boost Mobile, and Virgin Mobile this Friday.