Poll
Loading ...
Samsung Creates Clamshell Smartphone
posted by Liz E. on September 2nd, 2015 - 8:14 am | Prepaid Phones, Whimsy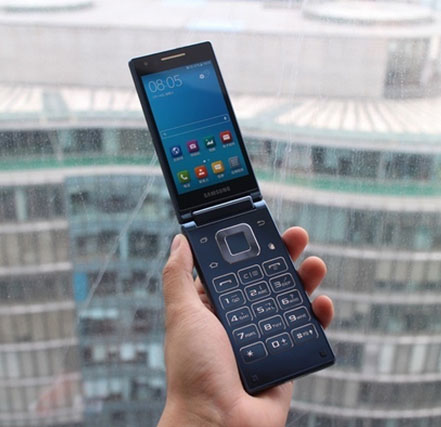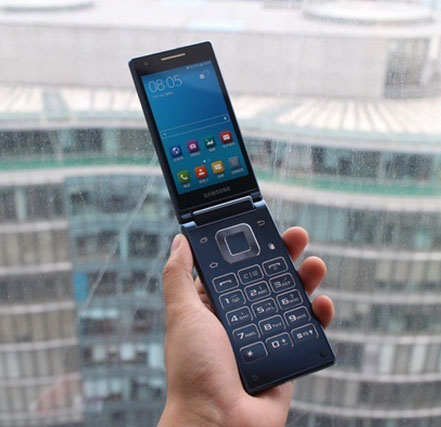 I am fairly convinced that there are two kinds of people in the world: those who like flip phones and those who like smartphones. Generally speaking, most people prefer one or the other. It's the great divide among prepaid phone users, but Samsung might just have solved the age-old debate with the first ever flip Android smartphone. 
The device is creatively named SM-G9198 and seems to be the perfect mid-ground between smartphones and flip phones. It features a physical number pad on the bottom and two touchscreens–one that displays on the front when the device is closed and another on the inside. The phone has near-flagship specs with 2 GB RAM, 16 GB memory, a great processor and the newest version of Android. It also has a 16 MP back camera and a 5 MP front camera.
But now for the bad news. This particular device isn't currently available in the United States as it was actually designed for Japan and other Asian countries, which are still extremely fond of flip phones in general. That doesn't mean that the US will never see one of these beauties, but unfortunately you'll either have to pay a ton to get it from overseas and find a carrier it will work with, or just wait.
Still, I can't help but be rather excited about the prospects. You can read more about the phone and see some pretty sweet pics over at Phone Arena.
So what do you think? Would you buy a flip Android phone? I don't think I'd be able to get in line fast enough, personally.