Poll
Loading ...
Motorola WX404 could be ready for prepaid carriers
posted by Joe on July 20th, 2010 - 7:30 am | Prepaid Phones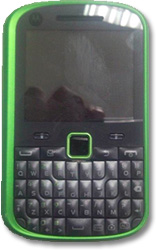 Whenever we see a device at the FCC that carriers a tri-band CDMA radio, it's a safe assumption that it's headed for MetroPCS, Cricket, or both. The latest such device, via Phone Scoop, is the Motorola WX404. It's a BlackBerry-style QWERTY device complete with trackpad. It also has other basic features, including SD card support and a media player. It sounds like a decent entry for either Metro or Cricket. There are no details of when this will arrive, but once it hits the FCC we're usually within a month or so.