Poll
Loading ...
Motorola announces the WX404, a/k/a Grasp
posted by Joe on August 3rd, 2010 - 7:30 am | Prepaid Phones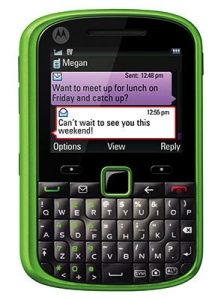 Among the new handsets we saw over the past few weeks, one of the more exciting ones was the Motorola WX404. It's a full-QWERTY device that kind of looks like a BlackBerry, right down to the trackpad in the center. We knew that, because it has a tri-band CDMA radio, that it's headed for MetroPCS, Cricket, or both. We still don't have the answer to that question, but via PhoneNews.com we learn of the official announcement from Motorola. That green exterior is a BFR and PVC free casing, and the housing is completely recyclable. Other than that it's what we expected, a 1.3 megapixel camera and media functions. The device can also support a microSD card of up to 8GB.
We still don't know pricing, release, or carrier, but we'll surely hear from Cricket or Metro soon enough.