Poll
Loading ...
Cricket Offers Phone Deals, Exclusive HTC Desire 520
posted by Liz E. on September 11th, 2015 - 4:38 pm | Cricket, Prepaid Phones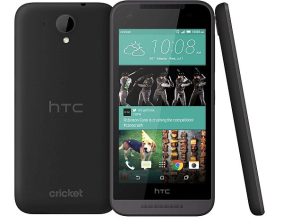 Cricket Wireless has announced a handful of deals aimed at customers looking for a new handset to go with their prepaid wireless plan. Not only is this AT&T brand offering discounts on a variety of phones (some as low as $19.99) but it will also be exclusively offering the HTC Desire 520 to customers.
HTC Desire 520
Cricket will be exclusively offering the HTC Desire 520, the newest midrange phone in the rather popular Desire line. The device comes with the newest version of Android, some pretty decent specs, and some partially gimmicky and partially cool features like "Double Exposure", which allows users to use both cameras to superimpose one photo on top of another. The phone supposedly has excellent battery life, but then again… all phones say that. Only time will tell.
As far as actual specs go, it looks pretty functional, although I wish the processor was a little higher:
Android Lollipop 5.1
Snapdragon 210 1.1 GHz quad-core processor
1 GB RAM
8 GB memory
SD slot (up to 32 GB)
8 MP back camera
2 MP front camera
LTE connectivity
The HTC Desire 520 will retail for $99 through Cricket Wireless and can be purchased online or in stores starting today.
Other Smartphone Deals
Additionally, Cricket is offering customers phones at reduced rates whenever they port a number from a competitor. In order to get the deal, customers must port a number from a carrier other than AT&T. According to Cricket, MVNO customers can quality for the discount provided that they are not with Cricket itself.
There are two phones that will be discounted with the porting promotion, and a handful of other devices that have been reduced specifically for the fall season. The following phones are available:
LG Risio (LTE) – $49.99 ($19.99 for customers porting their numbers to Cricket)
LG G Stylo (LTE)-  $149.99 ($99.99 for customers porting their numbers to Cricket)
ZTE Grand™ X Max+ (LTE) – $129.99
Samsung Galaxy Grand Prime (LTE) – $149.99
Samsung Galaxy® S 4 (LTE) – $199.99
Samsung Galaxy® S 5 (LTE) – $399.99
Samsung Galaxy® S 6 (LTE) – $499.99
There isn't an end date listed to this promotion, so if you wanted to take advantage of it, I'd definitely do it soon. The deals should be live today.
Cricket offers prepaid low-cost service through AT&T's network with plans starting at $40. For more information on Cricket services, plans and phone options, visit the Cricket Wireless website.