Poll
Loading ...
Alcatel Launches Exclusive Phones
posted by Liz E. on October 1st, 2014 - 9:35 am | Prepaid Phones, Straight Talk, Tracfone
Alcatel Onetouch has announced the launch of three new smartphones which will be available exclusively through Tracfone and StraightTalk. The Alcatel Onetouch Pop Star LTE, Onetouch Pop Icon and the Onetouch Pop Mega LTE will be available sometime in the next couple of weeks.
The Alcatel Onetouch Pop Star LTE and the Onetouch Pop Icon look like pretty standard Alcatel phones with low to mid-grade hardware, average screen sizes (4 inch and 5 inch respectively) and an affordable $150 price tag. Unlike many phones at this price range, the Pop Star LTE offers 4G capability. Other than that, however, both phones look like pretty standard devices with par or slightly sub-par specs.
However, the phone that really caught my attention is the Onetouch Pop Mega LTE. Marketing for $250, this phone comes with a bluetooth add-on device called a 'buddy' which basically looks like a mini old-school candybar Nokia phone. The Pop Mega LTE buddy can be used to answer and make calls, leaving the 6 inch phablet in your bag or purse. According to reports, the buddy is expected to have a two day battery live and is pretty lightweight and small, as all it does is connect to your phone and make and answer calls.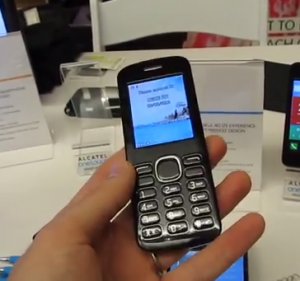 This still from Lilliputing's hands-on video shows the bluetooth Buddy
that comes with the Onetouch Pop Mega LTE
The Pop Mega LTE is expected to market for $250 and has some features mid-range specs, a decent camera and good storage options. While the idea of the 'buddy' is rather ingenious, I'm not sure how well it's going to work. The idea of not having to hold a tablet up to my face to answer calls is rather appealing, though, so here's to hoping it takes off.
What do you think? Do you like the idea of a 'buddy' for a phablet-sized phone?