Poll
Loading ...
Kitty Wireless Offering Free Page Plus Device
posted by Liz E. on April 20th, 2015 - 4:21 pm | Page Plus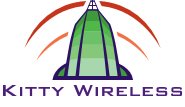 Kitty Wireless is running a promotion this week for new customers. For a limited time, when you activate a new Page Plus Cellular number on a $55/month plan through Kitty Wireless, you can get a free phone. This offer will be going until Saturday, April 25 or while supplies last so make sure you grab it soon!
Users who take advantage of this deal will be able to choose between a free ZTE Valet or a free Huawei Ascend Plus. Both devices are entry-level 3G ready phones that aren't exactly top of the line, but will certainly get the job done.
This offer is not available to customers looking to port their number to Kitty Wireless, and phones will come pre-activated with the $55/month plan. After the month has expired, customers can continue the service, change to a different plan or even discontinue the service. The phone is yours to keep, but will be ineligible for the 2 year warranty. Taxes and shipping and handling will be an additional cost.
Kitty Wireless is a reseller of Page Plus services. Page Plus uses Verizon's network, but customers will be able to handle everything through Kitty Wireless' excellent customer service team. For more information, check out the Kitty Wireless website.