Poll
Loading ...
Flashed Phones Banned from Page Plus in 2015
posted by Liz E. on December 3rd, 2014 - 4:51 pm | Page Plus
According to reports, Page Plus Cellular, a Verizon MVNO, has made an announcement to their dealers that as of January 15, 2015, flashed phones are no longer eligible for activation. As Page Plus was recently purchased by America Movil, owner of Tracfone and Straight Talk, I expect this is just the first of many changes to come to the MVNO.
There have been rumors of changes coming to Page Plus for a few months now, so I can't say I'm incredibly surprised. However, if you have a flashed phone, then don't worry too much–this policy should only effect new activations and flashed phones already on the network will be grandfathered.
Here's the announcement that the dealers received: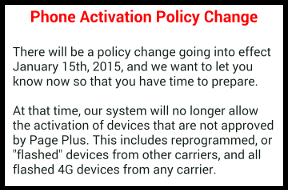 Traditionally, Verizon is very picky about which phones their MVNOs can activate so, again, this isn't too much of a surprise. However, it does mean the end of the days of purchasing a cheaper Cricket CDMA or Sprint phone and flashing it work with Page Plus networks.
It's the end of an era, almost, and I wonder if the stricter phone policies will cut into Verizon and Verizon MVNO profits somewhat, as their competitors don't have even half as many restrictions on which phones you can bring. Only time will tell. For now, if you want to bring a flashed phone to Page Plus, you'd better get on it.