Poll
Loading ...
Prynt Case Valentine's Promotion
posted by Liz E. on February 13th, 2015 - 8:03 am | News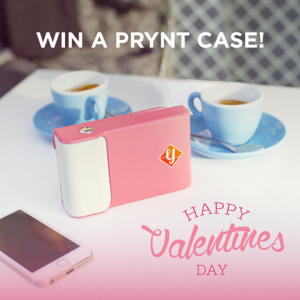 A couple weeks ago I talked about a new case that hit Kickstarter and within 30 minutes reached its goal. This case, called Prynt, basically turns your phone into a Polaroid camera and will print off any image you have stored on the device instantly. It hasn't launched yet, obviously, but as of this writing, the kickstarter has received more than 1000% of its original intended goal… so the odds are pretty good.
All of that being said, Prynt is currently running a promotion with the intent to give away a free Prynt case to one lucky winner. And the best part? All you have to do is snap a photo. Piece of cake! Here's how to enter:
Snap a love-related photo (keep it appropriate!)
Share it with Prynt via their Instagram or Twitter with #Prynt or like them on Facebook and post it on their wall
Congrats! You're entered.
The promotion is running until 11:59 PDT on February 14, and winners should be announced on February 16. The fine print states that you can enter up to five times on each media, so if you're REALLY enthusiastic, you could enter up to 15 times. The catch is you have to have original photos for each entry. Reposting will disqualify you. There will only be one winner chosen, and that winner will receive a Prynt case and 50 sheets.
If you want more information on Prynt and how it works, check out this article I wrote about the Kickstarter or visit their website.