Poll
Loading ...
Burner Offers PayGo Disposable Numbers
posted by Liz E. on December 19th, 2014 - 5:17 pm | Mobile Apps, News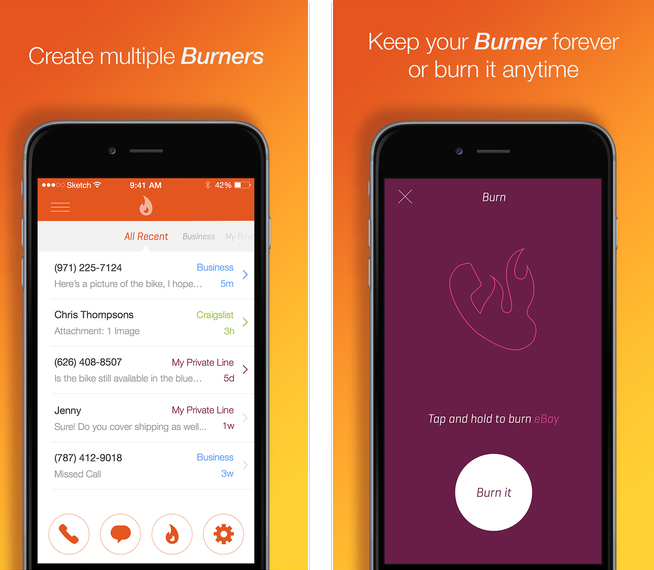 In this increasingly digital world, everyone has multiple identities spread across dozens of platforms. Most people have more than one email account but, strangely enough, having more than one phone number is uncommon. At least, for now.
A  relatively new app called Burner is looking to change all of that. Named after the 'burner phones' made popular by HBO's The Wire and various other crime shows, Burner allows customers to create temporary numbers to give out to keep your identity and personal number private in certain situations. Through this app, you can create, manage and 'burn' or delete as many numbers as you like. Want to advertise something on Craigslist, but don't want to subject your personal number to telemarketers and spam? Burner has you covered. Need a number to give out to that cute girl at the bar? Done. Need a number to give to coworkers for emergencies during a weekend trip, but don't want to give out your personal number? Solved.
Much like a paygo account, when you request a new Burner, you have to select what kind of number you want from this list based on how long you need it, and how often you'll use it. Here's a breakdown of the various types of Burner accounts, how long they are active and how many minutes/texts you get with each:
Sample (available once to try it) – 1 day or 5 voice and 15 text (free)
Mini Burner – 7 days or 20 voice or 15 text (3 credits)
Standard Burner – 30 days or 50 voice or 150 texts (5 credits)
Large Burner – 30 days or 90 voice or 270 texts (8 credits)
Long Burner – 60 days or 75 voice or 225 texts (8 credits)
You can, of course, top up if you need it. Top ups are as follows:
30 days or 50 voice or 150 texts (5 credits)
90 days or 90 minutes or 270 texts (10 credits)
60 voice or 180 texts (5 credits)
From how I understand it, you have to pre-load your account with credits and then you can use those to purchase Burner numbers and top ups. You can buy credits in increments of 3 credits for $2, 8 credits for $5, 15 credits for $8 or 25 credits for $12. It can get little pricey for everyday use, but for emergencies or short-term use, I can definitely see the benefit to something like this. And, until dual-sim phones become as common in the US as they are in Asia, I can definitely see the potential for this company to really explode in popularity. Heck, I'd love to have a second number some days.
Here's a video from Burner sort of explaining how things work.
It's certainly an unusual app, and it looks incredibly useful although I haven't tried it out myself. The app is available for download for both iOS and Android. So, what do you think? Worth the cost? Let me know in the comments!